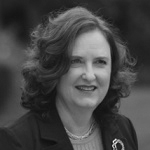 Shirley Fine Lee
Expertise in: Meeting Facilitation, Process Improvement, Team Building, MS Office, Time Management, and Social Media
Author of: R.A!R.A! A Meeting Wizard's Approach, T.A.P.P. Steps in Time Management, O.P.I.E. Project Planning and Implementation for Teams, as well as the Team Building Primer: A Start-up Guide for Developing Effective Teams, Committees, and Other Groups
Shirley Fine Lee is a meeting facilitator and trainer. She has been in training since 1986 and has experience in a variety of training and facilitation areas. Shirley has a passion to help organizations increase communication, employee, and system capacity to produce results. She does this through delivering training, facilitating meetings, and writing informative communications. Shirley is a results-oriented facilitator, who enjoys problem solving and working in a team atmosphere.

Shirley has served as classroom instructor, meeting facilitator, instructional designer, team-building coach, and change agent. She has trained thousands of people and has developed several custom training interventions. For several professional associations, she has presented on meeting management, presentation and communication skills, time management, and social media/networks. Plus Shirley has written over 300 articles on various training and business topics and she regularly writes blog posts.

Before becoming an independent trainer, Shirley was employed by Raytheon and Texas Instruments in various DFW locations. While working in the corporate- world, Shirley Lee was given Quality Excellence and Customer Satisfaction awards, as well as many departmental awards for increasing productivity and reducing costs. Her corporate career included working in training and human resource departments, as well as three years in Information Technology. She holds a BABA with a major in Information Management.
Shirley is a frequent speaker and has spoken to numerous groups including: American Society for Training and Development (ASTD), American Society for Quality (ASQ), American Business Women's Association (ABWA), Women of Vision and Influence (WOVI), International Association of Administrative Professionals (IAAP), International Association of Business Communicators (IABC), ARMA, Hadassah, and at the Keep Texas Beautiful Conference.