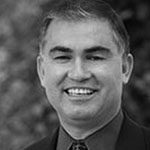 Roy Davis
Expertise in: Five Behaviors, DiSC, Leadership, Management, and Career Planning
Roy Davis brings a level of expertise and insight to every project with his more than 20 years of hands-on sales, marketing and management experience and over 10 years as a training professional, He has worked with a Blue Chip list of clients, providing workplace learning and performance improvement in the areas of professional/career development, business/sales management and interpersonal communications skills. His workshops, training sessions and seminars are enthusiastic, high energy and interactive—and designed to achieve professional development goals of organizations and individuals.

Mr. Davis has received the highest level of achievement bestowed upon participants of Toastmasters International (DTM). He is an active member of National Association of Workforce Development Professionals, the National Speakers Association, Association of Talent Development and is a Teaching Mentor with Career Transition Workshop, a non-profit organization which provides instruction, information and support to those in transition from one career t another. He holds a degree in Economics from Tarleton State University.

Roy is also the owner and founder of Davis Success Solutions, an authorized Wiley Partner and Diamond award winner. Through our strategic partnership with Davis Success Solutions, we are now able to bring you the leader in behavioral style assessment tools.